REFLECTIONS OF A VOICE
One of Sweden's great jazz voices in a much anticipated come back. Here together with some of Sweden's top jazz musicians. We not only meet a singer with her backup, here is a complete jazz group where the voice also is an important instrument. Elisabeth's soulfulness, her warm expression and feeling together exceptional improvisational skills characterises the group JazzAppear - musicality, spontaniety, collaboration and joy … altogether in one.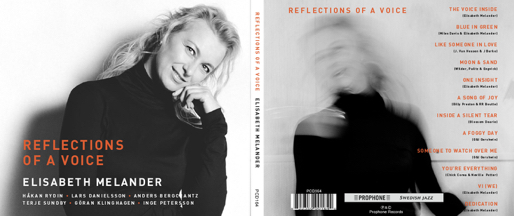 NOW PASSING OVER 1.5 MILION STREAMS ON SPOTIFY !



All About Jazz

DigJazz

For her latest project, Elisabeth wanted to capture the essence of jazz, to capture the moment through improvisation. She collected a bunch of musicians who without rehearsals just got into the music. Each song on the album is like a small adventure, a separate story with different instruments. The ability to listen in as a prerequisite for good improvisation is something that permeates the entire album, and when it is done with so much innerness, it will be enjoyable to take part. Elisabeth Melander varies her singing between torn island and rolling and a lot in between. Own material is combined with interpretations of other materials. Overall a varied and fun disc to enjoy. A lot to discover for each new listening. LIRA

Elisabeth Melander's new album features American classics as a backbone, but thanks to her improvisational skills and
her rich and warm voice it feels far from the standard form.
Alexander Agrell, Sydsvenskan

Reflections of A Voice offers constant new surprises at every glance. Treat yourself with this album! Stig Lindroth

Both Melander and her musicians are routine and get the album's mix of self-written material and standards to blend immensely nicely OJ