BLUE MOODS IN THE BLUE HOUR
A soulful and moody repertoire mix where the tones from northern Sweden are mixed with jazz, folk and original compositions. A blue palette of experiences and memories from past to present … simply,
"Blue Tunes In The Blue Hour"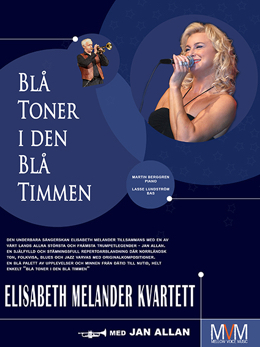 "Jan Allan's trumpet playing along with Elisabeth Melander's voice, creates magic … suddenly it feels like jazz, ballads and the open landscapes of Norrland interwine into "one "(PT)
ELISABETH MELANDER
- vocals

JAN ALLAN
- trumpet
The famous and legendary trumpeter Jan Allan, noted for its personal tone and his beautiful melodic playing. He personal melodic imagination combined combined with light and agile phrasing can be heard on numerous albums. He has played with a multitude of Swedish and international jazz greats and with great musical commitment Jan has participated in orchestras, chamber ensembles and choirs. In 2008 he received the "Jazz Honor Prize" from the Swedish Jazz Association and in 2015 he was given The Swedish King's Medal "Litteris et Atibus" for outstanding artistic achievements.


MARTIN BERGGREN
- piano
Martin is a versatile pianist who is not restricted to one genre. He is also a one-of-a-kind composer and arranger. His brilliant and emotional musicianship put the music and the collaborate playing always at forefront. Martin studied at the Academy of Music in Malmö. Jazz pianist Jan Lundgren, named him one of the most talented piano students he'd even taught.


LARS LUNDSTRÖM
- bass
Also a composer and arranger who has worked as a professional bass player since 1971. He is a freelance musician both the classic and jazz field and has over the years played with many well-known musicians in jazz music, released several albums and was awarded the Harry Arnold Scholarship in 2011.