In The Name Of Love

S
imply, beautifully, tenderly… Swedish ballads and jazz, in a folkloristic and spiritual meeting with summer.


Songs in words and music from the Swedish song tradition and jazz. Elisabeth Melander's compositions in the spirit of Jan Johansson and Monica Zetterlund. There are also tidbits from the repertoires of Whitney Houston, Stevie Wonder, Michael Ruff and Brenda Russel.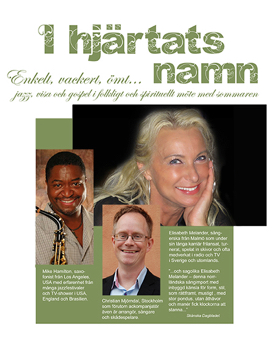 ELISABETH MELANDER
- vocals

MIKE HAMILTON
- saxophone

Mike has produced and written music, recorded and performed for more than twenty years. An international musician who has performed and toured with several platinum musicians and participated in some of the biggest jazz festivals and TV shows in the United State, England and Brazil. In recent years Mike has been an assistant professor at Berklee College Of Music in Boston. A great musician with a broad repertoire and a exciting musical identity.

CHRISTIAN MJÖRNDAL
- piano

Christian was educated at the Royal Music Academy of Stockholm, and has twenty years experiences as an accompanist, arranger, singer and actor. He versatility is unique as he moves easily between jazz fusion, classical, folk music and pop.