ELISABETH MELANDER JAZZAPPEAR
Soulfulness, warmth and feeling along with unique improvisational skills characterise JazzAppear, where also spontaneity and joy interacts.


"The voice is my instrument and as a singer I have always been open to explore different genres and styles. In JazzAppear I challenge myself in different ways that reflect my singing and personal expression, so the theme of our concerts ...
Reflections Of A Voice ...
comes natural. It is also the title of my latest album
.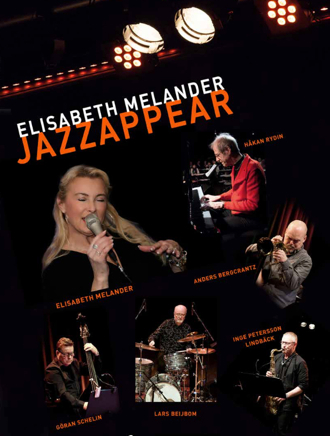 ELISABETH MELANDER
- voice

HÅKAN RYDIN
- piano
Håkan as an impressive track record and has played with greats such as Thad Jones, Pepper Adams, David Liebman, Red Mitchell, Etta Cameron, Arne Domnérus and others. Perhaps best known as the leader of the legendary group Nexus.
GÖRAN SCHELIN
- bass
Demanded bass player, composer and band leader. 30 years as professional musician with tours both in Sweden and abroad. Won the prize "Jazz in Sweden" 1985 with the group Wail. Göran is a jazz teacher and also a member of Lars Beijbom's Orchestra Six.
LARS BEIJBOM
- drums and percussion
Lars is a outstanding arranger, composer, producer and drummer. After studying at Berklee he came back to Stockholm for a collaborations with, among others, Red Mitchell. Has later worked with Dionne Warwick and Dee Dee Bridgewater as well as co-leader of Erling Kroner Big Band. Lars also leads of his own outstanding jazz group, Lars Beijbom's Orchestra Six.

ANDERS BERGCRANTZ
- trumpet / flugelhorn
One of Europe's premier jazz trumpeters with the whole world as his stage, both as guest soloist and with his own groups. Anders has released seven albums and received many prestigious awards, including the "Golden Disc" Orkesterjournalen in 2007 and Swedish National Radio's "Jazz Cat" for best Swedish jazz musician.
INGE PETERSSON LINDBÄCK
- tenor / soprano sax
Inge is known as a highly talented and respected musician most often soloist in one of Europe's most prominent Big Bands, Tolvan Big Band, in which he has been a member since 1987. Characteristic for him is his rhythmics, creativity and melody - a brilliant saxophonist on Sweden's jazz sky.