TOUCH MY SOUL
A concert filled with soul, from heart to heart, between heaven and earth. Jazz, soul, gospel meeting the Swedish summer.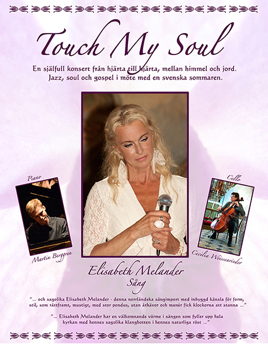 "Jan Allan's trumpet playing along with Elisabeth Melander's voice, creates magic … suddenly it feels like jazz, ballads and the open landscapes of Norrland interwine into "one "(PT)
ELISABETH MELANDER
- vocals

MARTIN BERGGREN
- piano
Martin is a versatile pianist who is not restricted to one genre. He is also a one-of-a-kind composer and arranger. His brilliant and emotional musicianship put the music and the collaboratetive playing always at forefront. Martin studied at the Academy of Music in Malmö. Jazz pianist Jan Lundgren, named him one of the most talented piano students he'd even taught.


CECILIA WEISSENRIEDER
- cello
Cecilia is a member of the string quartet "Minervakvartetten" and also cellist in Lund City Orchestra. She works as a cello teacher at Kulturskoan and teaches cello methodology at The Academy of Music in Malmö.