Joy Courage and personal expression
Since childhood it was natural for Elisabeth to move freely between different genres - jazz, pop and soul music. Dance and theatre were also included in her ever present curiosity.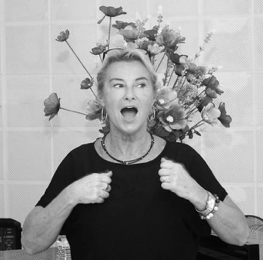 "My identity is to be both a singer and a teacher. Being active, singing and giving concerts also develops and inspires me in my educational work. "
"The most interesting aspect about being a teacher is the unique encounter with each individual student, inspiring and supporting them to find the lust and courage of a personal expression musically and technically."


Elisabeth's education is broad and qualified. From the municipal music school in Boden via her classical vocal and music studies at Framnäs in Piteå to a teacher's degree in vocal and ensemble at the Music Academy in Gothenburg. Then further education for musicians in jazz and contemporary art music, with subjects such as improvisation, composition, rhythm and cross artistic meetings.

In 1985, Elisabeth was employed at the Academy of Music in Malmö where she established the first Swedish vocal education injazz and rock genres. She was met by an unwritten page - there was neither education plans literature, sheet music or other material. She had many ideas and thoughts about a whole new method for singing "other genres", and soon began to develop the methodology in parallel with the classical which became a well-established vocal education at the academy. She also applied her methodology at other music colleges in the country. This innovative education led to great interest also from the rest of the Nordic countries, where Elisabeth conducted workshops, gave courses and lectures at various institutions and in other educational institutions. Elisabeth is a university lecturer and still teaches singing, ensemble, improvisation and singing methodology at The Academy of Music in Malmö.

In addition to her work at the Academy of Music in Malmö Sweden, she has been a guest professor throughout the years in her specialization at the music academies in Gothenburg, Stockholm, Ingesund and Piteå. At Ingesund Music College she has been a jazz teacher in singing and ensemble playing with many of Sweden's and the Nordic's leading jazz musicians.

She has developed the vocal methodology of the jazz and rock genres as well as her own method of improvisation. She is still a frequent guest lecturer at other music academies and colleges. In addition she has acquired a wide experience in vocational rehabilitation during her years as a teacher.

In recent years, Elisabeth has been a guest professor the Academy of Music in Jakobstad, Finland. In 2016, as a guest professor, started the jazz education in singing at the Vietnam Academy of Music in Hanoi ,followed 2017 at the Vietnam Conservatory of Music in Ho Chi Minh City.