SONGS OF SUMMER WINDS
A soulful and moody repertoire mix where the tones from northern Sweden are mixed with jazz, folk and original compositions. A blue palette of experiences and memories from past to present … simply,
"Blue Tunes In The Blue Hour"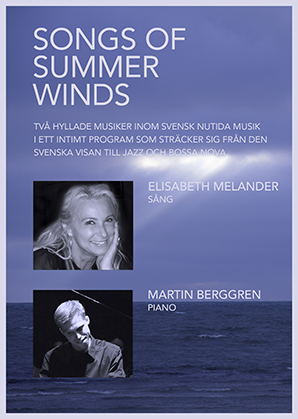 A summer program where jazz, bossa nova and soul are mixed with songs from our Swedish "song book". Elisabeth and Martin have frequently held concerts for two years with two highly appreciated programs on different - "Touch My Soul", "Songs Of Summer Winds" and "Blue Moods In The Blue Hour" along with Sweden's legendary jazz trumpeter Jan Allan.
Martin Berggren
is a versatile pianist who does not let himself be restricted to a genre. He is also a composer and arranger including works for Jan Lundgren, Nils Landgren and many others. Martin's brilliant and emotional playing always puts music and interaction in the first place. Martin Berggrens Trio has a new album released this album, "Home".